Businesses have been tested like never before in these last two years. The global pandemic, Brexit disruptions and other geopolitical standoffs, shipping delays caused by the Ever Given saga in the Suez Canal and the European HGV driver crisis, extreme weather events, and countless near-catastrophic cyber-attacks have shown that no business of any size or stature is immune...

And supply chains have been the most exposed to the chaos. Partnerships that businesses have relied on have become stressed. Urgent questions are now being asked:
News cycles have brought into painful focus the vulnerabilities businesses are exposed to and how ill-equipped many of them are to deal with disruptive events. In this guide, we survey the major and less-visible threats to business arising from logistics disruption during times of flux, and show how they can take steps now to build resilience against these events.
Logistics disruption in unprecedented times
Recent events have presented an existential challenge to businesses, which have had to discover new ways of surviving in the face of disruption to sales, supply chains and narrowing margins.
Threat to trusted revenue streams and margins
For those that could, businesses shifted online to offset store closures and quickly addressed unexpected increases in demand, learning to handle B2C logistics at scale. And efficiency wasn't optional. Any business selling online is competing against the logistics standard set by Amazon and other giant platforms.
Multi-site stock and fulfilment points
For businesses fulfilling orders either in bricks and mortar stores or online, stock held in a central warehouse is a risk. The stock and the facility is vulnerable to physical disaster, outage caused by political action, cyber-attack, or inoperability caused by events like the pandemic. To protect itself, your business can create redundancy by building a distributed stock model.
Holding stock in multiple warehouses spreads risk across regions and continents. Then, if any one or more stock holding points is out of action, another can continue to fulfil in the interim.
Why don't more businesses use a distributed stock model?
Apart from the extra resource cost of multiple warehouses, a multi-node distribution network requires some serious computational power in order to deliver its potential benefits.
Stock has to be intelligently allocated between nodes, close to the people who need it with levels linked to varying demand.
The costs of deliveries and returns from this multi-node network have to be carefully managed to achieve best value, and customer expectations of delivery date and service quality have to be met.
With conventional systems and methods, most companies would not be able to make a multi-node distribution model work well. 7bridges is an AI-powered logistics platform that enables businesses to rapidly plan and deploy agile, resilient supply chain operations.
We've helped many businesses create a highly effective distributed stock system in their business, including helping luxury retailer Philipp Plein move to a Ship-From-Store model at the beginning of the pandemic.
Repurposing retail stores
During the multiple lockdowns of the pandemic Retailers have faced particular challenges, as physical stores were forced to close.
However - some businesses proactively reduced the losses faced by store closures by quickly repurposing bricks-and-mortar stores into stock-holding and order fulfilment points. This logistics model is referred to as 'Ship From Store'.
Benefits of Ship From Store logistics for Retailers
Retail chains can ensure that its stock will never be inaccessible because of a local lockdown or staff sickness at a central warehouse.


Orders can also be fulfilled in the most cost-effective way over the best selection of routes and carriers from the nearest point to the customer.


The availability of so many distribution points means stock can be quickly re-allocated between them in anticipation of unfolding events.
Case Study
Impact of Ship-From-Store for Luxury Retailer, Philipp Plein
The Objective
Philipp Plein wanted to unify sales between online and bricks-and-mortar stores, in order to maximise available stock, improve customer experience and increase sales.
The Solution
Dynamic fulfilment processes and inventory balancing. Fully automated fulfilment from stores, handled with a single-click by staff. All powered by the 7bridges AI-powered logistics platform.
The Results
> 35% cost reduction from each added site
> 10 new ship-from-store sites rolled out per week
For B2B and B2C businesses, shipping direct from a manufacturing site to the customer provides a solution to the question: what happens if my usual distribution network is working, but the business suffers some critical damage to its normal channel?

Let's say a European company sells a product manufactured in Asia; the product is normally shipped to a warehouse in Germany, and orders are fulfilled from there. If the German warehouse is knocked out of action, orders could still be fulfilled by shipping straight from the Asian site to the customer.
If the business is equipped to ship from the manufacturing site, it can not only supply customers direct, but it also retains other options, such as direct injection (whereby bulk shipments are made from the manufacturing site to target countries, and distribution to the customer is completed from there), or even supplying the product to other distributors.
Why don't businesses deploy a drop-ship strategy?
Manufacturing sites are normally geared to shipping in bulk to the customer's warehouse, from where the business handles the packaging and delivery to the consumer. It takes time to prepare a manufacturing site to step into the role of B2C logistics. There are obstacles to overcome before a business and manufacturer can confidently operate this way, including:
Cultural differences
Lack of trained staff
The requirement for compatible systems
A supply of customer-ready packaging
For many businesses, it may not seem worth the effort. However, if those fundamental measures are implemented correctly, drop-shipping becomes much easier to achieve. For those with end-to-end integrated logistics systems that already encompass the manufacturing site during the normal logistics operation, the switchover to drop-shipping can be made almost instantly.
Threat to the supply chain
During the COVID-19 crisis, logistics service providers weren't immune to the challenges faced by other businesses, including:
Staff shortages due to illness
Adapting to health regulations and social distancing rules
Closed borders and local and national lockdowns
Additionally, they've faced delayed freight shipping across land and sea, had access to limited capacity on commercial flights and seen a huge rise in airfreight charges. These costs are passed on by the carrier to their clients, and the hike in carriage costs can be such that it wipes out the entire profit on the sale – an alarming problem when volumes are already depressed.
Why did airfreight charges rise so dramatically during the first year of the pandemic?
The majority of commercial air traffic is passenger traffic and a significant proportion of airfreight is carried on those same flights.
So when passenger flights came to a halt in 2020, freight charges rose sharply. Suddenly, the only airfreight available to most was from 3PLs that operate their own planes, such as FedEx and UPS.
In the scramble that resulted from reduced airfreight capacity, freight forwarders, large corporates and express transporters were competing for space. This resulted in raised costs that were passed on to customers.
Surcharges vary between carriers
It's important for businesses to understand that not all logistics providers raise the same surcharges. In fact, during the first 6 months of the pandemic, 7bridges observed a variance of up to 100% in surcharges across the top logistics providers. This is mainly because carriers have differing degrees of exposure: some operate their own transport capacity; some have capacity in one country or region, but not in others; and some have no capacity at all.

These tables show some of the surcharges imposed by major carriers:
Fuel charges vary too – and not just during the COVID-19 crisis
Fuel prices rise or fall according to market and production pressures and carrier fuel surcharges also vary – again due to exposure level differences. Carriers may have hedged against future rises, or they may have large existing stocks and are able to delay passing the rise on to customers. Here are some variations in recent months:
The hidden costs of carrier surcharges
Numerous additional costs have been added to logistics invoices during the upheaval of 2020 and 2021, including COVID surcharges associated with the pandemic and HGV Charges related to the European driver shortage.
These surcharges have caused the price of moving stock and delivering items to rise sharply. And few enterprises will have been aware immediately of the impact of these surcharges on their logistics spend. Why?
Logistics invoices can be confusing; there is no standardisation across providers, so data is challenging to interpret.


Additional COVID costs or HGV driver costs have been baked into freight charges and were invisible to the staff responsible for reviewing supplier invoices.


Surcharges vary between carriers (more on this later).
Now, more than ever before, it's crucial that your business can accurately identify your shipping costs on a granular level, including those relating to surcharges. Armed with this information, you can more confidently predict 2022's shipping spend, and proactively work with your logistics carriers to reduce costs.
7bridges has a helpful tool which automatically audits and cleans your logistics invoices, so you can gain true transparency over your shipping costs.
How can you keep costs under control in times of flux?
1. Get total transparency over charges
Normalise data and standardise data with AI
New costs or surcharges are often hard to identify, and even harder to compare between carriers. This is due to a lack of data standardisation across different service providers: datasets are presented in different formats, there's a different way of naming services, charges and surcharges.
As a result, it's incredibly hard and time consuming to manually normalise data from different logistics suppliers. These are just a few examples of the ways that different carriers present their rate cards.
Use cleaned data for analytics and decision-making
But there is a solution! AI can automate the standardisation process for you. Here's an example of a cleaned, harmonised dataset, produced by 7bridges, and downloaded into a simple Excel file. Once a dataset has been cleaned, AI can also bring it all together, and present it in a way that enables you to use it for analytics and decision-making.
7bridges can help - with an our logistics Audit tool
The 7bridges Audit tool normalises data from all of your suppliers and automates the logistics invoice review process for your AP team. Our smart technology detects and disputes invoice errors, so you can save time and rapidly reduce your logistics spend.
It can even allocate charges to general ledger (GL) codes, offering you greater insights into your category margins.
2. Work with multiple carriers to decrease risk
Having transparency over charges is vital. It enables you to keep an eye on costs, and you can use this information during your logistics procurement process to renegotiate your rates with existing suppliers.

But knowing your costs is one thing, driving them down is another! The best way to reduce your exposure to hidden and rising fees is to work with multiple logistics carriers.
7bridges regularly conducts simulations that show the impact of deploying a multi carrier logistics strategy for our customers. On average, we've seen businesses save 30% on shipping costs by using this logistics strategy.
Three key benefits of multi provider logistics?
Ability to rapidly respond to disruption in carrier networks
Improved OTIF performance
Cost reduction (on average, 30%)
Why deploy a multi-carrier logistics strategy?
Unlike single-sourcing, a multi carrier approach spreads logistics activities across multiple providers. It increases efficiencies, decreases costs, and improves customer experience by ensuring the best performing carrier can be chosen for different shipments.

Instead of relying on one provider to fulfil all orders, organisations work with 3-5 providers to find the best value route taking into account the relevant criteria like cost, delivery service (e.g. 1-hour nominated slot, collection box etc.), appropriate delivery date, performance reliability, special handling requirements, and customer communications.
Case Study
Improving resilience and saving €2M+ on retail logistics in Eastern Europe
Here's a recent simulation we ran for a retailer that was expanding their presence in Eastern Europe. The organisation had selected DHL as the primary provider for logistics services, in the belief that this would result in preferential rates.
But when we used the 7bridges AI to simulate the total costs (including consideration of all the standard surcharges that would be applied in different ways by the providers), we found that their preferred provider (DHL) was a significantly more expensive service. In fact, they could save €1M+ per year by using any other provider, and most importantly, that they could save €2M per year by working with FedEx.
The icing on the cake was that the simulation identified an additional €300K in savings, if the retailer was to deploy dynamic carrier selection using the 7bridges technology. More on this shortly.
3.Deploy dynamic carrier switching to rapidly respond to changing costs
Dynamic carrier switching is one of the most impactful steps your business can take to ensure supply chain resilience, and reduce your logistics costs.

What is it? The ability to switch carriers instantly, automatically, and without any kind of penalty.

When a business can do this, it is no longer vulnerable to hazards relating to carrier performance or prohibitive costs, cyber-attacks or outages within their systems, or their sudden financial collapse. The business is also much less vulnerable to unacceptable or hidden surcharges, extreme weather events, geopolitical disturbances and pandemics.
These factors don't affect every carrier to an equal degree: at any given time some carriers will offer better performance and value than others. The key to both resilience and profitability is in being able to switch instantly as soon as a current carrier does not offer the best value and performance, before your service and costs are impacted.
If you don't yet have the ability to dynamically switch between carriers in real-time and are worried about supply chain fragility in 2022, it's time to act. 7bridges can help you rapidly deploy an AI-powered multi-carrier logistics solution for your network without CapEx or lengthy implementation work.

Talk to one of our expert team today about your own supply chain, and how a multi-carrier solution can boost your organisation's resilience.
Why don't businesses use automated carrier switching?
Most companies work with two or three carriers – or even a single carrier – because operationally, it's the easy option.
Within conventional systems and operating methods, it's nearly impossible to have constant oversight into and switch between the carriers that offer the best value/performance even on a single route, let alone for the multiple routes used by an international business.

To understand how to approach carrier-switching, download the guide, 'How to reduce your logistics costs by shifting your fulfilment to a multi-carrier strategy'.
Looking past the pandemic
COVID-19 has been the first real awakening to the need for resilience for many businesses. But other challenges spell an equal need for supply chain resilience, as 2021 showed. Cyber-attacks, local or regional disasters, political conflicts; these are some of the more frequent events that can cause catastrophic disruption of supply chains and a severe threat to business survival.
The threat of cyber-attack
We've had no shortage of high-profile cyber attacks, proving carriers and logistics suppliers have not given enough priority to building resilient systems that can withstand DDoS, malware, ransomware and other forms of attack or failure.
Companies have generally lacked the capacity and expertise to secure their systems
Business leaders have not seen it as part of their core offering, and have not prioritised security
Yet the continued operation of logistics carriers and suppliers relies on the robust functioning of crucial computer hardware and software systems. It is critically important for businesses that rely on logistics services from these providers to factor into their resilience strategy the risk posed by the supplier's vulnerability to systems outages caused by cyber attacks.

Unfortunately, in many cases the logistics provider has not done enough to reduce this vulnerability, and it's also very difficult for a business to ascertain the degree of risk involved in a contract with a 3PL.

Of the high-profile events affecting logistics providers, perhaps the most dramatic and thought-provoking is the 2017 crisis at global container shipping company A.P. Moller-Maersk.
Maersk: A near-fatal episode
Maersk oversees 10-20,000 containers entering a port every 15 minutes. What happens when the IT systems controlling every move goes down for ten days?
Jim Hagemann Snabe,
Chairman, Møller-Maersk
What happened?
Maersk's IT and control systems were disabled in an attack during the non-Petya campaign, which was based on a software exploit leaked from the US National Security Agency (NSA) targeting Microsoft Windows systems. It originated as a cyberwar effort in the struggle between Russia and Ukraine, and initially seemed to be a ransomware attack. Non-Petya had a serious impact on thousands of organisations around the world, including the UK's National Health Service, FedEx, pharmaceutical giant Merck, and many other large corporations.

The attack 'bricked' all of Maersk's computers, forcing staff to operate the company manually for ten days.
The damage
In all, Maersk had to rebuild 4,000 servers, 45,000 PCs, and re-install 2,500 applications. The reported cost of the damage was $300m.
How was it resolved?
It was only saved from complete collapse by pure chance: just one of the company's servers – in Ghana – remained uninfected, and only because a power outage caused it to be disconnected just before non-Petya spread through the rest of the network. From this server's hard drive, Maersk was able to rebuild the others over ten days and restore its operations to normality.
A supply chain is only as resilient as its weakest link, so a business should take all necessary steps to protect its in-house operational systems against attack and failure. As for external systems and suppliers, businesses must have the ability to rapidly switch volumes between providers to reduce risk.
Ransom attackers know that smaller targets are unlikely to have the resources to fight off the assault and in the past, ransomware attacks have even been aimed at individual manufacturing plants or warehouse operators. Often the least damaging recourse is to pay the ransom to get up and running again quickly.
You probably have contingency plans in place across your business, but how extensively have you stress-tested your supply chain? AI technology can help you by modelling a number of different operating scenarios, by creating a 'Digital Twin'.
A Digital Twin can show you how costs might be impacted and performance might be affected in all sorts of scenarios that threaten your supply chain. Your simulations could include:
Peak periods like Christmas and Black Friday.
What would an increase of volumes for a specific product/shipment type do? How would your costs and performance change with your proposed supplier mix? Similarly, what would happen if there was a decrease in volumes?
Changing business objectives
This might be something like, reducing your 'delivered by' timeframes for all or part of your customer base. It could also be something such as shipping a new product line, or entering a new market.
Disaster modelling
Supply chain disaster modelling can give you insights into the impact of a multitude of 'what if' scenarios, such as:
Border closures - like those experienced during the first few months of the pandemic
Warehouses going offline - for example in hurricane season, or due to staff illness
Extreme weather events (like Hurricane Katrina or the Icelandic Volcano eruption)
Legislative changes, like Brexit
The failure of a supplier (like Maersk's outage in 2017)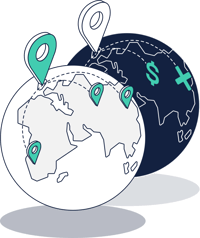 A Digital Twin is a detailed simulation model of your actual supply chain which uses real-time data and snapshots to forecast supply chain dynamics. It can help you:
Gain greater insights into your supply chain's behaviour,
Predict abnormal situations, and inform your future logistics needs.
By creating a Digital Twin of your logistics network, it's possible to run rapid and exhaustive simulations that highlight the savings and improvements you can make by tweaking your operations.
Armed with a detailed view of your supply chain risks, you can create impactful and accurate contingency plans that will enable you to rapidly respond in the event of a disaster, minimising downtime and negative impact to sales and reputation.

7bridges can build a Digital Twin of your supply chain and use our advanced AI technology to simulate all sorts of scenarios.
Conclusion: Thinking beyond the here and now
During times of disruption, it's difficult to see through the weeds. Organisations get swept up in reactive methods to ensure business as usual and all planning for the nearest future is put on hold.

A resilient business is one that doesn't react to unforeseen events. It merely shifts gears. It presses GO on a strategy already implemented to deal with such events. Revenue streams are protected, stock isn't a worry and customers are kept happy.

The last few years have tested businesses in ways that most didn't ever envisage. The global pandemic, extreme weather events, large-scale cyber-attacks and geopolitical stalemates triggered barriers, delays and red tape few organisations were equipped to deal with. Those that had contingencies and strategies in place for switching logistics providers and service suppliers were the ones that avoided costly surcharges, vulnerabilities to their own IT systems and a loss of revenue. Those that didn't are now thinking about how they can implement agile strategies to protect their businesses for the future.

To find out how to make your logistics operation and supply chain resilient within weeks, visit the7bridges.com

7bridges is already trusted by pharmaceutical businesses, fashion brands, medical technology providers and manufacturers. We've also been voted as one of the most exciting artificial intelligence startups in Europe by Business Insider.
Upgrade to world-class logistics with 7bridges
Powered by artificial intelligence, the 7bridges platform enables you to swiftly upgrade your logistics:
☑️Integrating 7bridges to your business can take less than two weeks
☑️The 7bridges platform can generate ROI in just one month
☑️ You can rapidly connect to new logistics suppliers, globally